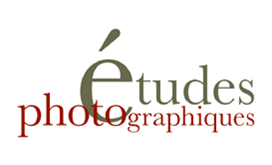 Éditée par la Société française de photographie de 1996 à 2017, Études photographiques fut pendant 35 numéros la revue francophone de référence en matière d'études visuelles.
L'exigence de qualité, aussi bien dans la présentation éditoriale, le contenu des articles ou l'édition des images a constitué pendant plus de vingt ans la signature reconnue de la revue, qui lui assura un lectorat fidèle et une excellente réputation internationale. Sur le plan scientifique, la revue a largement contribué à modifier le paysage de la discipline, en renouvelant les problématiques, les méthodes et les axes de la recherche, en donnant la parole aux jeunes chercheurs, en faisant découvrir au public francophone et anglophone les meilleurs auteurs étrangers, mais aussi en instaurant un dialogue, autrefois inexistant, entre les champs de spécialités les plus variés (histoire de l'art, des sciences, des techniques, histoire littéraire, philosophie, esthétique, muséographie, etc.).
Grâce aux contributions des meilleurs chercheurs français et étrangers, soumis aux règles de la publication scientifique, elle témoigna de l'état le plus récent de la recherche auprès des spécialistes comme du public cultivé.
From 1996 to 2017, the peer-reviewed journal Études photographiques, published by the Société française de photographie, has been the French-language publication of record addressing the history of photography and visual culture.
Our demand for quality, with regard to presentation, article content and the treatment of images, has been recognized as the signature of the journal, assuring a loyal readership and an international reputation. Editorially, Études photographiques has largely contributed to the changing landscape of the discipline, by rethinking research questions, methods and directions, by giving a voice to young scholars and by providing the Francophone and Anglophone public access to the best international authors, while also establishing a dialogue, otherwise non-existent, between diverse fields (art history, science, technology, literary history, philosophy, aesthetics, museology, etc.). With contributions by noted scholars from France and abroad, subject to the rules of scholarly publication, Études photographiques provided academics and the arts community access to the most current research on visual objects. Between issues 23 and 30 Études photographiques had been published on bilingual print editions.